Nintendo and Rare bill Perfect Dark as the last blockbuster game to be released on the N64 platform. The game stars special agent Joanna Dark who works to stop the evil dataDyne from enacting its nefarious plan.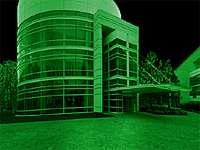 Creating a web based preview of the game, Dreaming America produced eight QuickTime VRs and four QuickTime videos. The QT videos and QTVRs were stitched together within a Flash module that gave instructions and interacted with the QTVR and video pieces to create one of the coolest games on the web.

Players work their way through dataDyne, accomplishing missions such as hacking into the dataDyne computer system or freeing an imprisoned lab technician. Each time a mission is completed, a Perfect Dark game preview or tip is revealed.

We oversaw production of the QT videos and QTVRs from start to finish, scouting locations, casting actors, acquiring props and costumes, shooting, editing and compressing the footage for web delivery.

This site was developed in conjunction with Accelerated Web Development, DreamSuite, and Trac Vu. The movies feature Jamal Qutub, and Raymond Kirk.