Many wireless providers have been reducing their workforce, but they still need to build and maintain their networks. That is where Mericom, a leading wireless infrastructure provider, comes in.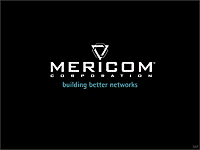 Mericom was looking for a way to communicate their expertise to potential clients. Dreaming America designed and developed a CD-ROM that allows potential customers to see Mericom employees talking about why they believe Mericom is a great company with the experience to help them succeed.

A series of video clips can be viewed passively (self-running) or interactively (navigated via controls). Furthermore, an "Executive Summary" mode shows highlights of the presentation to those who are short on time.

The presentation was designed to be easily customizable and a number of keyboard controls were included for the convenience of the salespeople who use the piece as part of their presentations.

By authoring the CD-ROM presentation with Director we were able to achieve excellent integration and control over the QuickTime video, Flash animations and all aspects of sound design.

Dreaming America's multi-disciplinary process created a successful CD-ROM that was met with an enthusiastic response from Mericom's sales force and impressed potential clients.