Bonfire Snowboarding creates technically advanced snowboarding apparel for riders that want to spend more time on the mountain and less time in the lodge. Riding conditions are not only "extreme" - they vary widely and change rapidly, so high quality gear is essential to any serious rider.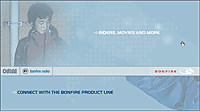 Bonfire asked us to create an experience that conveyed their culture, passion and quality. But that was just the first step - dealers and customers also want product information. A wide range of products with copious amounts of technical information presented a significant design challenge.

We were faced with serving up a dose of snowboarder culture and deep product information. In order to present these two rather diverse types of information we split the site in to 2 distinct areas that could easily be switched between.

Content development was key to capturing the essence of the riders. Video clips were digitized and compressed. Bonfire riders were interviewed; we asked the hard questions & we asked for the lowdown on their hometowns (for the Local's Guides section). Their music became the basis for the streaming Bonfire Radio station - built to work directly with a visitor's MP3 player.

With over 100 products to contend with, it was critical to integrate Flash with a custom database of product information. Product information is loaded in to the page when requested, without the user having to load a new page. Less waiting = more discovering.

For those who don't want to aimlessly browse through the deep product line, there is the product finder. Answer a few simple questions about your riding style and preferences and the appropriate products will be suggested.

Once the right gear is found, the dealer locator can quickly serve up all the places to buy within any valid zip code, city or state.

By combining compelling content with clear and useful product information, Dreaming America was able to deliver a dynamic and successful site.